BRB to Host Annual Book Sale
BRB to Host Annual Book Sale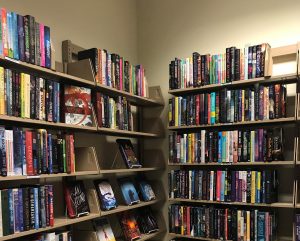 Save the date for the annual BRB Book Sale to be held Tuesday, November 19, 10:00 a.m. to 6:00 p.m. in the Duane G. Meyer lobby.
Proceeds from the sale help to support outreach, workshops, and PR for the BRB. Please note, we are only able to accept debit or credit cards for this sale. 
The Children's and Young Adult Book Review Board of Southwest Missouri (BRB) promotes quality children's and young adult literature, focusing on multicultural and series titles. As part of Missouri State University's public affairs mission, the BRB fosters cultural competence and community engagement. The BRB staff and volunteers write reviews that are available online, and present book talks and workshops at schools, libraries, and conferences. The BRB regional viewing room at Duane G. Meyer Library on the Missouri State University Springfield campus allows hands-on examination of titles.