MSU Participates in a Panel at the Library Research Seminar VII
MSU Participates in a Panel at the Library Research Seminar VII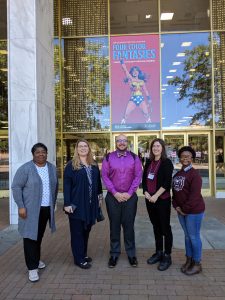 Lindsey Taggart, Rachel Besara, and Tericka Brown, a library student employee, participated in a panel presentation along with University of Arkansas Little Rock Librarian Louise LaFrane Lowe and graduate student Zachary Jones titled "Evidence Based Inquiry Using Student Led Focus Groups at the Library" at last week's
Library Research Seminar VII
held in Columbia, South Carolina.  
The presentation covered the work resulting from the MSU Assessment Grant funded project "University Libraries' Student Led Assessment of Students' Libraries Attitudes, Experiences, and Needs." The talk was well received and attended, with particular audience appreciation given to the inclusion of Tericka and Zachary's student researcher perspectives.  
The Library Research Seminar was hosted jointly by the University of South Carolina College of Information and Communications, the School of Library and Information Science, the University Libraries, and the Library Research Roundtable of the American Library Association.