Trench Art Collection Continues to Grow
Trench Art Collection Continues to Grow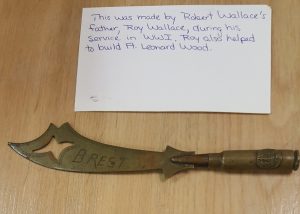 Thanks to the generous donations of Pete and Sara Morgan, Tina Wallace, and others, the MSU Libraries owns a growing collection of trench art.
According to the Wikipedia article on this type of art, "Trench art is any decorative item made by soldiers, prisoners of war, or civilians where the manufacture is directly linked to armed conflict or its consequences."
The image is of a letter opener, we think, made by Roy Wallace during World War I. The father of the late poet Robert Wallace, Roy would go on to help build Fort Leonard Wood. The item was donated recently by Tina Wallace, spouse of Robert. We have a substantial Robert Wallace collection at the MSU Libraries.