Spring "What's Brewing @ Your Library" Event Draws a Good Crowd
Spring "What's Brewing @ Your Library" Event Draws a Good Crowd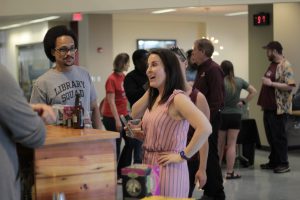 The successful series of events called "What's Brewing @ Your Library" began a few years ago in December, at the conclusion of the fall semester. "What's Brewing" offers an opportunity for MSU faculty and staff members to socialize, unwind, sample local craft beers and mead, and listen to good local music after Commencement.
This year the MSU Libraries tried adding a "What's Brewing" event in May, after spring Commencement. It was a success, and we anticipate that it, too, will continue to grow in popularity in the coming years. Over 85 people attended on Friday evening, May 17th, to chat, relax, sample local beers, ales, and mead, and listen to The Kidders.
Thanks to those who attended the event and thanks to those who worked to make it happen!
Don't worry, the December "What's Brewing" event is not going away. The next one will be on Friday evening, December 13th.