Hongjun Yin to Retire on April 30th
Hongjun Yin to Retire on April 30th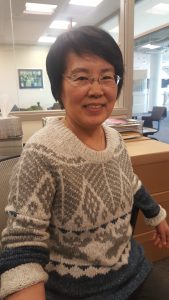 Hongjun Yin, a Library Associate I in the Resource Management & Discovery unit of the MSU Libraries, has announced her intentions to retire on April 30th, after 18 years of service to the MSU Libraries and its users. A departmental retirement reception is planned.
Hongjun began full-time on April 9, 2001, after four years as a part-time employee. Dea Borneman, now the Head of Haseltine Library in the Greenwood Lab School on campus, was her second supervisor.
Her retirement plans include working on various projects at home, plus eventually some travel in the fall, including a trip to China. She has been granted emeritus status at the University. We all wish Hongjun the best in her retirement.