Dea Borneman Receives Two Awards at MASL Conference
Dea Borneman Receives Two Awards at MASL Conference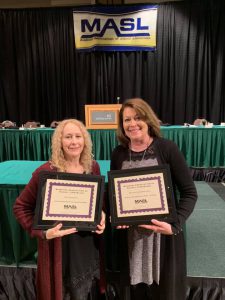 On Monday, March 25, 2019 at the MASL (Missouri Association of School Librarians) annual conference being held at Tan-Tar-A at the Lake of the Ozarks, Dea Borneman, library faculty member and head of Haseltine Library in the Greenwood Lab School, received two major awards:
The Special Service Award is for significant service to MASL and school libraries.
Melinda Hammerschmidt, a first grade teacher at Greenwood, and Dea also received the TLC Award, which honors a teacher and librarian who have exhibited excellence in working collaboratively.
Congratulations, Dea and Melinda!