Peripatetic Librarians Visit Missouri S&T in Rolla
Peripatetic Librarians Visit Missouri S&T in Rolla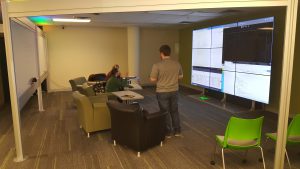 The MSU Libraries has begun a series of visits to other libraries in the region. On each trip, a small group of library faculty and staff members will make a day-trip to another library, museum, archive, or other type of organization of interest to learn more about how they are seizing opportunities and solving problems that are shared by many libraries, including Duane G. Meyer library on the Springfield campus of MSU.
On Tuesday, February 26, 2019 Jir Shin Boey, Tracy Stout, Rachel Besara, and Tom Peters traveled to Rolla to learn more about the single service point implemented some time ago at the Curtis Laws Wilson Library on the campus of Missouri University of Science & Technology.
Roger Weaver, the Scholarly Communications Librarian and interim head of Access Services at S&T, provided us with a thorough tour of and introduction to the library, focusing on the various public services, from the centralized service point right inside the main entrance to the great things they are doing with Scholars' Mine, S&T's institutional repository.
One of many pleasant surprises during this visit was the presentation practice room (pictured) with its nine large screens and wall of whiteboard, which is being used for many purposes by a wide variety of groups.