Meet Our Newest Employee: Paige Harp
Meet Our Newest Employee: Paige Harp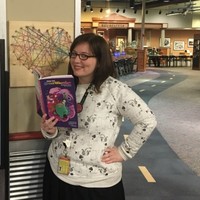 On November 12, 2018 Paige Harp will begin serving in the MSU Libraries as a Library Associate III. Welcome, Paige!
Her duties will include: Assisting the Cataloging and Metadata Unit (50%), Library Information Technologies Unit (25%), and the Library's Graphic Designer (25%). Duties include cataloging and withdrawing library materials, video editing, maintenance of the Library's online catalog, loading new database files from vendors, and other metadata services.
Paige has a BA in English literature from MSU, and her MLIS is from the University of Missouri. Most recently, Paige served as a Youth Services Associate at the Library Station for the Springfield-Greene County Library District.