Special Collections Spotlight: Office of Publications Collection
Special Collections Spotlight: Office of Publications Collection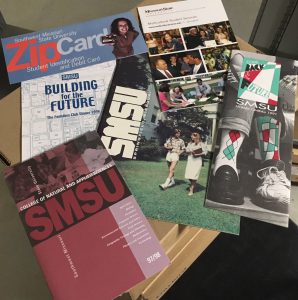 The Office of Publications Collection, Record Group 16/13/0 in Meyer Library's Special Collections and Archives is a collection of documents that illustrates the evolution of the public face of Missouri State University. The Office of Publications represents just one of the units responsible for MSU's public relations, and provides graphic design, editing, and writing services to the campus community, as well as providing guidance in usage of the university identity standard. Since 1985, Publications has produced MSU's printed materials such as recruitment publications, promotional items, signage, and the magazines Missouri State Insider, and Missouri State.
A sampling of printed materials from various years were photographed to show the wide range of materials created by Publications, representing numerous departments and offices. These include Admissions, Alumni Relations, Student Services, and various Colleges.
For more information, please contact Special Collections and Archives.