"Information Anthropology" Final Report Now Available
"Information Anthropology" Final Report Now Available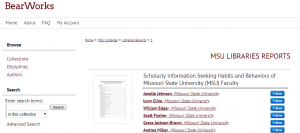 The Scholarly Information Seeking Habits and Behaviors of MSU Faculty, popularly known as our first "information anthropology" report about the information creation, seeking, and usage behaviors of members of the MSU campus community, is now included in BearWorks under MSU Libraries Reports.  The report is also linked from the MSU Libraries website under About the Libraries (Homepage>About>Mission).  
This report is the combined efforts of the Information Anthology group, consisting of Jan Johnson, Lynn Cline, Bill Edgar, Scott Fischer, Grace Jackson-Brown, and Andrea Miller. The group conducted an ethnographic study using direct observation and semi-structured interviews of a sample of MSU faculty members to gain knowledge about faculty scholarly information-seeking habits and behaviors to provide insight into the following research questions:
What information sources and technologies are used by MSU faculty members in their scholarship?

Where do faculty members conduct their research?

With whom do faculty members consult for research, writing, and information seeking assistance?