MSU Libraries Collaborates with League of Women Voters
MSU Libraries Collaborates with League of Women Voters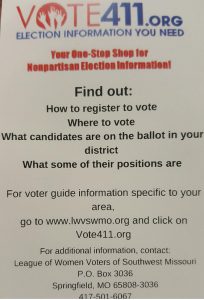 Once again, this election year the MSU Libraries is collaborating with the Southwest Missouri Chapter of the League of Women Voters to facilitate a voter education and participation campaign.
Free voter education pamphlets, as well as quick-info cards, have been placed on the First Level of Duane G. Meyer Library — on the table next to the stairs, and on the RIS research help desk.
Lisa McEowen, a Library Associate III in Special Collections and Archives, is facilitating this effort.