Meet Our Newest Testing Center Employee: Mariah Turner
Meet Our Newest Testing Center Employee: Mariah Turner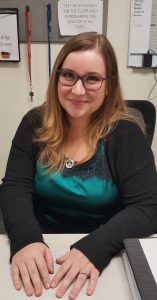 Mariah Turner from Nixa is our new Administrative Assistant II in the MSU Testing Center, a service from the MSU Libraries, located in the Lower Level of Duane G. Meyer Library. She began working here yesterday, Wednesday, October 24, 2018. Welcome Mariah!
She has a BA degree in Psychology from MSU. While she was a student here she worked for the Departments of Psychology and Computer Sciences.
Mariah also is a professional artist. Since 2012 she has owned and operated her own business, Because 42.