Rising Costs Challenge the Libraries' Operating Budget
Rising Costs Challenge the Libraries' Operating Budget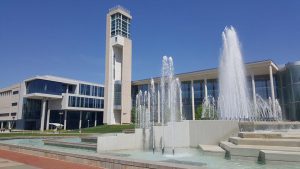 Rising costs in several key areas of operations for the MSU Libraries are putting significant strain on the current FY19 operating budget. Costs for OCLC services, MOBIUS membership and services, and MSU Networking and Telecommunications services all have risen.
The biggest challenge, however, is posed by the rising costs for electronic content, including e-journals and online databases. Annual subscriptions to these types of e-resources now consume nearly all of the Libraries' information materials budget of $2.26 million. When the annual inflation rate for the e-resource subscriptions to which the MSU Libraries subscribes is 6% — common for the past several years — the annual loss of purchasing power is over $135,000 per year.
The MSU Libraries continues to work on several fronts to contain costs and explore new methods to gather, disseminate, and archive information. We have launched BearWorks, an Institutional Repository (IR) where MSU faculty, students, and staff can place their own scholarship, such as theses, papers, and journal articles, for discovery and use by students and scholars worldwide. The "Intellectual Access and Assets Management" (IAAM) Committee of the MSU Libraries is actively exploring current and emerging alternatives to some of our core systems, including Integrated Library Systems (ILS), E-Resource Management (ERM) systems, and other IR platforms. We also are working with other university groups, as well as with other member libraries in the MOBIUS consortium, to explore and implement Open Educational Resources solutions.