Man Booker Prize Goes to the Milkman
Man Booker Prize Goes to the Milkman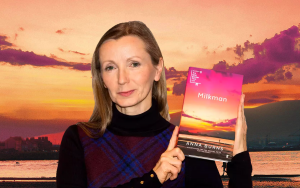 On Tuesday officials of the Man Booker Prize announced this year's winner from the six books (and authors) that had been "shortlisted" as the finalists:
The Overstory, by Richard Powers (being cataloged) Nine strangers are summoned by trees to save what little is left of North America's virgin forests.
Washington Black, by Esi Edugyan (being cataloged) George Washington Black, or "Wash," an eleven-year-old field slave on a Barbados sugar plantation, is terrified to be chosen by his master's brother as his manservant.
Everything Under, by Daisy Johnson (ordered 9/21/18) A lexicographer who grew up on a houseboat receives a phone call that causes her to think back on childhood occurrences and adapt to radical change.
The Long Take, by Robin Robertson (ordered 9/21/18) A Nova Scotian veteran of D-Day, suffering from PTSD, wanders across the United States and learns about the darker side of life in this country but also the nobler part of his own existence.
Milkman, by Anna Burns (ordered on 9/21/18) Middle sister, the protagonist, does everything in her power to escape attention, but is challenged when she suddenly becomes noticed.
The Mars Room, by Rachel Kushner (being cataloged) A woman is facing two consecutive life sentences, and what seems to be the beginning of a long, dreary existence suddenly changes.
The winner is: Milkman!
This international literary prize is open to any writer of any nationality who is writing in English and whose book is published in the UK and Ireland. Prize is 50,000 pounds sterling.