E-Resource Spotlight: Academy of Nutrition and Dietetics Care Manual
E-Resource Spotlight: Academy of Nutrition and Dietetics Care Manual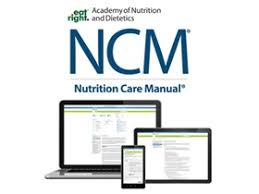 The Nutrition Care Manual (NCM) is an online diet manual and professional practice manual that is consistent with the Academy of Nutrition and Dietetics Evidence Analysis Library, position papers, and the Nutrition Care Process.
It contains research- and evidence-based nutrition care information for more than 100 diseases, conditions, and topics. It also offers client education and meal plans that include food lists with sample one-day menus.
A diverse resources section is available, including information on cultural food practices, malnutrition coding, and special issues.