Special Collections Spotlight: The Oscar Carter and Helen Roman Collections
Special Collections Spotlight: The Oscar Carter and Helen Roman Collections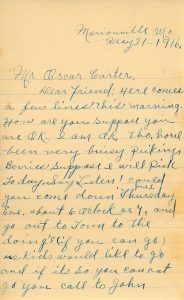 Student employees in Special Collections and Archives recently worked on transcribing handwritten letters from the 1910s-1920s in two different archival collections: the Oscar Carter Collection (M 93) and the Helen Roman Collection (M 95).  Students today have less experience reading cursive, which made the task initially daunting, as nearly every letter in both of these collections was written in cursive.  Some less than perfect handwriting, as well as many spelling and grammatical errors, made the work even more difficult.  All of the students picked up on the writing very quickly, however, and impressed the staff in Special Collections.
On top of dealing with the unfamiliar writing, the students also had some interesting and enlightening reactions to their work:
When reading a particular woman's letters in the Carter Collection, one student was impressed by how perfect her handwriting was, noting that she obviously took pride in it (possibly because she was a schoolteacher).  He also found it interesting how particular they all were in noting on what day and at what time they were writing their letters, even mentioning whether they were starting the letter on one day and finishing it the next.  He felt that textual communication may have been more meaningful and involved a hundred years ago than it is today, after seeing how much they talked about everything going on in their lives, everything they were doing, and inquiring about others' families; and that speed of communication may be more valued now.  After going through many letters, he became so familiar with the handwriting of each person that he could identify who wrote a letter before seeing the signature.  He also speculated that paper may have been expensive for them or hard to come by, as they would often use every blank space on a sheet rather than continue onto a new page.
Another student remarked on the apparent differences in education level that could be gleaned from the letters written to Oscar Carter, judging by the variances in correct spelling, punctuation, and grammar.  She was also impressed by how poetically some of them wrote about the Ozarks and the beauty of the outdoors… and by how many different women wrote to (and flirted) with Oscar Carter.
Another student noted how the writing seemed very friendly but at the same time formal.  She read how concerned Helen Roman's high school students were for their teacher when she was in the hospital in 1926; and that Halloween was a very important holiday for them, as they wrote about it for several weeks and planned a fundraiser party around it.
The Helen Roman Collection is an upcoming project for the online Digital Collections, but you can see the physical collection in person in Special Collections.  The Oscar Carter Collection is a much larger collection currently in processing, but a few of the images and letters are already available online.