Special Collection Spotlight: Roy Ellis Collection
Special Collection Spotlight: Roy Ellis Collection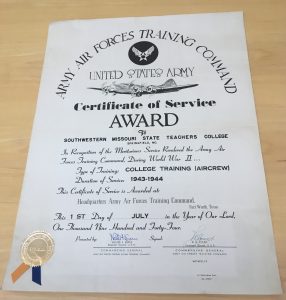 The Roy Ellis Collection (M 3) in Special Collections and Archives contains materials that document Dr. Ellis' 35 years as president of what is now known as Missouri State University. In addition, the collection contains Ellis' research for The Shrine of the Ozarks: A History of Southwest Missouri State College, 1905 – 1965. The collection has a wide range of information about Missouri and education.
Dr. Ellis was born in Wright County, near Seymour, Missouri in 1888 and taught in rural schools before completing a Pedagogy degree in 1911 from the State Normal School, Fourth District (now MSU).
The President's Correspondence Series containing letters between the presidents of the four state universities/colleges include correspondence regarding the admittance of African Americans to the institutions. In 1950 Mary Jean Price Walls applied to attend what was then Southwest Missouri State College, but her application was denied. She received an honorary degree from MSU in 2010.
The Army Air Forces certificate documents the Air Corps Cadet Training School's use of Southwest Missouri State Teachers College under Dr. Ellis' leadership. Ellis led the college through the Great Depression, World War II, and the post-war enrollment boom.
For more information, see the collection's finding aid or contact Special Collections and Archives.