Provost Forms Committee to Study Impact of Page Charges
Provost Forms Committee to Study Impact of Page Charges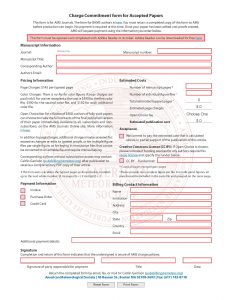 Dr. Frank Einhellig, Provost at Missouri State University, recently formed a small ad hoc committee to look at changes in methodologies for funding the publication of scholarly journals, especially page charges, also known as article processing charges.
Tasks of the committee:
Evaluate the current status and future prospect of changes in publication methodology that relate to page charges and other costs. 
Suggest potential impact that these changes will have on MSU.
Members:
Tamera Jahnke, College of Natural and Applied Sciences (Chair)
Wayne Mitchell, College of Health and Human Sciences
Tom Peters, Libraries
David Rohall, College of Humanities and Public Affairs
Libby Rozell, College of Business
Jake Simmons, College of Arts and Letters