New Wheelchair to Assist Patrons
New Wheelchair to Assist Patrons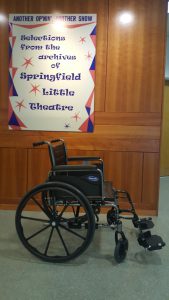 Meyer Library has purchased a manual wheelchair for short-term use within the building.
The chair is available for anyone with an immediate need for mobility assistance.
Home base for the wheelchair is the receiving/mail room area on the First Level of Meyer Library.
Please help ensure the wheelchair is easy to locate when needed by returning it after each use.