Local, Collaborative Plans for the PBS Great American Read
Local, Collaborative Plans for the PBS Great American Read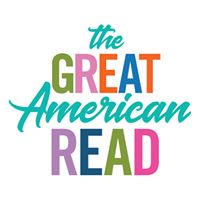 In May PBS began a new television series called the Great American Read. Quoting from the project's FaceBook page: "THE GREAT AMERICAN READ, a new eight-part television competition and nationwide campaign, explores the power of books and the joy of reading through the lens of America's 100 best-loved novels. Vote for your favorites before the series returns this fall."
The MSU Libraries is partnering with other organizations to plan a series of events around this national public campaign. Preliminary planning discussions are underway with the MSU English Department, OPTV, KSMU, and other interested organizations. Some of the ideas discussed to date:
(1) a series of trivia nights (focused on the 100 novels) held at public libraries in the summer, culminating in a trivia night hosted at MSU in the fall;
(2) a "

Great

 Ozarks 

Read

" in which public libraries would encourage patrons to vote for their favorite book from the list of 100; and
(3) a film festival at the Moxie featuring movies based on a handful of the 100 novels.