Summer Innovation Grant-Funded Projects for 2018 Announced
Summer Innovation Grant-Funded Projects for 2018 Announced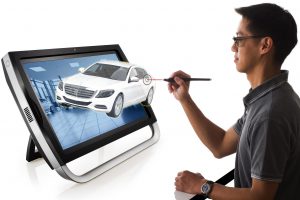 Funding in the amount of $40,000 is available again this summer to support MSU Libraries faculty and staff members who want to create or improve a service, a body of content, and/or a space (real world, online space, or virtual world). The innovation could involve a new service, body of content, or space (or combination of two or all three of these), or an improved, expanded, or extended existing service, body of content, or space.
Eight grant applications were submitted, and the MSU Libraries was able to fund all eight:
Measuring Use of Library Spaces ($500): The goal is this pilot project is to build a sensor for measuring activity in the library space using the toolkit developed by Measure the Future. This pilot project will test and assess our ability to better understand space utilization in the library. Nathan Neuschwander, Principal Investigator.
Hololens, zSpace, and AR Sandbox ($11,000): MSU Libraries can better support curricula and research in MSU departments such as Computer Science, Engineering, Physics, Education and others by providing space and
equipment that enables development of new and enhanced educational opportunities. Exposure to new technology will enhance faculty and student ability to understand the modern workplace. Digital Arts, Physics and Computer Science have an interest in having two Hololens devices available through the library. Student National Educators Association and their advisor, Michelle Satterfield, are very interested in zSpace and AR/VR. The augmented reality sandbox creates an environment for teaching water flow, water conservation, how to use maps, problem solving, and planetary landforms/geology. Jan Johnson, Principal Investigator.
One Button Recording Studio ($6,000): Users of the One Button Studio will be able to:
· record a presentation for class
· record interviews or podcast
· rehearse thesis / dissertation defenses
· create videos for online instruction
· create videos for recruitment, training
· practice public speaking
Jir Shin Boey, Principal Investigator.
Government Documents Microfiche Weeding Project ($4,200): The Government Printing Office no longer sends very many materials in microfiche format, as it is a cumbersome format for patrons to use, and many of the documents in microfiche are now online or are outdated. Tammy Stewart, Principal Investigator.
More Hi-Tech Equipment to Circulate ($3,000): While the Circulation Desk has received inquiries about checking out equipment for many years, CIT used to do that for students. CIT no longer checks such equipment out and the questions related to such equipment have increased. Circulation already checks out computers, tablets, robots, and cables therefore, the processes for checking out more equipment already exists. The goal of checking out other equipment corresponds to the library's increased emphasis on technology and meeting user needs. Joshua Lambert, Principal Investigator.
Adding Genre Terms to the SWAN Catalog ($2,200): This project to convert subject terms to genre terms will allow the SWAN catalog to be better utilized by both patrons and reference staff. It is a very different search for items on Jazz as opposed to items that are Jazz. Raegan Wiechert, Principal Investigator.
Enhanced Special Collections Instructional Sessions ($5,100): Special Collections proposes to undertake a project to enhance the unit's instructional sessions. This will include researching methods employed at other institutions, developing a series of templates for typical sessions, and increasing outreach efforts to faculty. As part of this, we are requesting funds to purchase a large screen monitor and related equipment. The requested equipment can also be used to enhance the unit's exhibits in Meyer Library, adding touchscreen interactivity and drawing passers-by in to view exhibits. Anne Baker, Principal Investigator.
Phase 3 of a Study of the Scholarly Information Seeking and Behavior of MSU Faculty ($8,000): Experienced survey design assistance is required for developing a meaningful survey. The survey would be developed during the Summer 2018 semester and distributed during the Fall 2018 semester. The group would use the grant to secure assistance in developing and executing the survey, specifically to work with Todd Daniel of the MSU RStats Institute to identify and hire a graduate student to assist in survey instrument design and execution, and to make it available in Qualtrics. "Information Anthropology" Research Team, Principal Investigators