Dead Day Party
Dead Day Party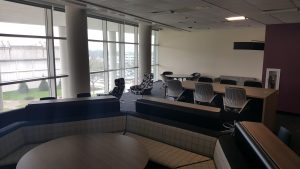 The end-of-semester "Dead Day" party will be held on Friday, May 11, 2018 from 11:30 a.m. CDT to 1:00 p.m. CDT in LIBR 301 ("Club 301" — newly re-carpeted and refurnished) on the Third Level of Duane G. Meyer Library. Hot pizza and cool, refreshing beverages (non-alcoholic) will be provided by the Libraries using private funds. Attendees are encouraged to bring a side dish and/or dessert to share. Attendees also are encouraged to bring their own non-disposable plates, cups, and eating utensils. The kitchen sink with dish washing liquid will be available before, during, and after this event, so you can clean up your own dishes and utensils.
Graduating student employees will be honored with a gift from the Libraries.
Attendees also are encouraged to bring non-perishable food items and/or personal care items to donate as a group to Ozarks Food Harvest. Significant others of current employees, as well as retired employees, are welcome to attend.