Spotlight on Special Collections: The Robert Wallace Collection
Spotlight on Special Collections: The Robert Wallace Collection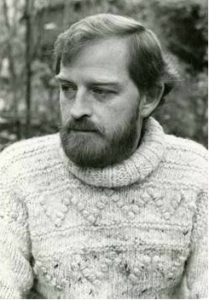 The Robert Wallace Collection (M 1) in Meyer Library's Special Collections and Archives features a large amount of material about author Robert Wallace and his publishing company Bits Press.
Robert Wallace (1932-1999) was a Springfield native who started writing poems around the age of ten.  When he was sixteen his humorous poem "Tee Hee," about his experiences as a golf caddy, was published in The Rotarian magazine.  He graduated from Springfield High (now Central High School) and went on to Harvard (A.B. in English, 1953) and Cambridge (B.A. in English, 1955) before serving two years in the U.S. Army. His first book, This Various World and Other Poems, was published by Scribner's in 1957. 
In the late 1950s and early 1960s, he taught at Bryn Mawr College, Sweet Briar College, and Vassar College, before settling at Case Western Reserve University from 1965 until his death in 1999.  During his time at Case Western, he published several more books and started his Bits Press in 1974, which published chapbooks and collections of poetry from authors such as Wallace's former classmate, John Updike.  
This collection includes thousands of letters from contemporary poets, most notably a significant amount of material from John Updike, several letters from Richard Wilbur, and one from William Carlos Williams.  The bulk of the collection is correspondence with Bits contributors.  The collection also includes manuscripts of poems, both those written by Wallace and those submitted to or published by Bits.  For many of Wallace's poems, all drafts of the poems are included.