Tom Peters Speaks at Branson Centennial Museum
Tom Peters Speaks at Branson Centennial Museum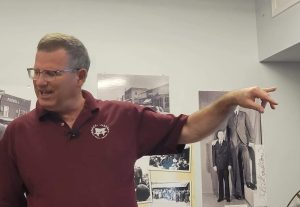 On Tuesday, September 20, 2022, Tom Peters, Dean of Libraries at Missouri State University, gave a talk at Branson Centennial Museum as part of their monthly Tuesday Talks Series. Approximately 40 people attended.
Peters spoke on the topic of "Over 100 Years of Hillbilly Variety Shows." He traced the emergence of this type of show in the early 20th century, with the Weaver Brothers & Elviry as early masters of the form. He then used the Ozark Jubilee in the late Fifties as a pinnacle of the form, which has continued up to the present in Branson and other entertainment venues.
His slide set can be viewed here.