2023 Smithsonian Folklife Festival Dates Announced
2023 Smithsonian Folklife Festival Dates Announced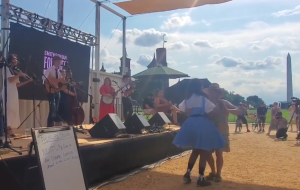 Earlier this week, during an online planning meeting involving representatives from the Smithsonian Institution, the Missouri State University Libraries, and other stakeholders in the multi-state Ozarks region, the dates for the Ozarks Program at the 2023 Smithsonian Folklife Festival were finalized:
Wednesday, June 28, 2023: Kickoff Concert in the evening on the National Mall in DC. The headliner is yet to be determined.
Thursday, June 29th through Tuesday, July 4th: Full days of events on the National Mall, with evening concerts. Daytime events generally are held between 11 a.m. and 6 p.m. 
Wednesday, July 5th: No official activities are planned.
Thursday, July 6th: An evening concert will be held. 
Friday, July 7th through Sunday, July 9th: Full days of program events on the National Mall, with various concerts in the evenings.
Of course, uncontrollable situations may arise that will force us to modify this schedule, but this is the current plan.
At the 2023 Smithsonian Folklife Festival, two main programs are being planned:
Creative Encounters: Living Religions in the U.S.
The Ozarks: Faces and Facets of a Region
The Ozarks Program is being organized around four basic themes:
Celebrations and Gatherings

 

Topics of research: seasonal events, homecomings and homegoings, religious and spiritual practices, foodways, pie suppers, quilting circles, etc.

Stories, Sounds, and Show Business

 

Topics of research: house parties and jam sessions, the legacy of the Ozark Jubilee and underground "show caves," the contemporary showcases of Branson and Silver Dollar City, storytelling

Migrations, Movements, and Pathways

  

Topics of research: highways, railroads and tourism corridors (e.g., Route 66), waterways, hiking trails, "Trail of Tears," Osage Trace, ancestral vs. adopted homelands, transplanted traditions of new immigrant groups, etc.

Connections to Land and Place

 

Topics of research: gardening, herbalism, foraging, gig fishing and making, john boats, vernacular architecture, outdoor recreational activities, mountain biking, and other sports, etc.


For more information about the Ozarks Program at the 2023 Smithsonian Folklife Festival, including sponsorship opportunities, please contact Tom Peters (TPeters@MissouriState.edu or 309-660-3648).