"Ode to the Ozarks" on the National Mall a Big Success
"Ode to the Ozarks" on the National Mall a Big Success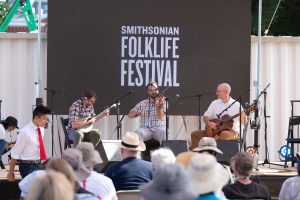 The National Mall in DC rang with sounds from the Ozarks last Sunday as we offered a musical preview of the 2023 Smithsonian Folklife Festival. The performance celebrated the rich musical landscape of the Ozarks region, from a decades-long old-time music jam session in rural Missouri, to some of the youngest talents on the vibrant bluegrass scene in Arkansas.
To open the show, a trio of skilled musicians led an old-time Ozarks jam session. Musicians at the McClurg Jam in northeast Taney County, Missouri, have gathered weekly to play old-time music for more than 30 years. David Scrivner, a long-time participant of these weekly jam sessions, was joined by fellow jam session veterans Nathan McAlister on banjo and David Cavins on guitar to demonstrate what this Ozarks institution is all about.
After that,
Sylamore Special
took to the stage to share their lively and spirited take on bluegrass music. Based in Mountain View, Arkansas, this group of young friends was first assembled by fiddle player Mary Parker in the spring of 2021 to compete at Silver Dollar City's KSMU Youth in Bluegrass Band Contest. After winning first place, the gigs kept coming. Earlier this month, they performed at the 2022 Arkansas Country Music Awards and won Best Young Artist of the year.
Sylamore Special is comprised of Mary Parker, 17, on fiddle; Gordon (Sugar Foot) Parker, 15, on mandolin; Turner Atwell, 18, on guitar; Mercy Grace, 18, on bass; and Lillyanne McCool, 19, on banjo. Mary is a nine-time multi-state fiddle champion and former ACMA Young Artist of the Year nominee. Lillyanne is a national old time banjo champion and also a former Young Artist of the Year nominee.
Over 200 people attended the event in person, and 100 enjoyed it as a
livestream
. Within three days the YouTube recording had received almost 1,000 views. 
Join us next summer at
#2023Folklife
for the full ten-day program, "The Ozarks: Faces and Facets of a Region."