New Exhibit Celebrates 60th Anniversary of Tent Theatre
New Exhibit Celebrates 60th Anniversary of Tent Theatre
Special Collections and Archives, a part of the Missouri State University Libraries, is pleased to unveil the new exhibit in the lobby of Craig Hall at the entrance to Coger Theatre on the main Springfield campus of MSU. This new exhibit features artifacts and ephemera from the history of Tent Theatre, which celebrates its "Dream Big" 60th anniversary season this summer.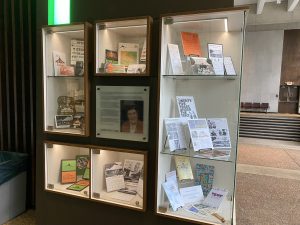 Tent Theatre patrons can enjoy the exhibit during the upcoming season, when two of the three shows will be performed indoors at Coger Theatre during completion of the new John Goodman Amphitheatre in the new Judith Enyeart Reynolds Arts Park. The amphitheatre will be the new home of Tent Theatre beginning with the production of the third show of the season, currently scheduled for September.
Tent Theatre performed its first season in the summer of 1963 under the direction of Dr. Robert Gilmore and Dr. Leslie Irene Coger (for whom Coger Theatre is named). The new exhibit features items from not only that first season, but from the entire sixty-year history of the celebrated repertory company, and includes anniversary playbills, photographs, newspaper articles, the legendary Tent fans, and much more.
All images displayed were drawn from Special Collections and Archives and are comprised of items from the Leslie Irene Coger Collection, the Byrne Blackwood Collection, and the University Theatre & Dance Collection. Users may contact Archives@missouristate.edu with questions about the exhibit or any of the collections.