Route 66 Turns 96 on Saturday
Route 66 Turns 96 on Saturday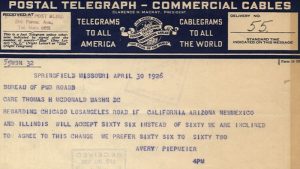 Route 66, born right here in Springfield, Missouri at 4 p.m. on Friday, April 30, 1926, will turn 96 years old on Saturday. 
At 4 p.m. on the afternoon of Friday, April 30, 1926, a telegram was sent from the Postal Telegraph office in the Colonial Hotel in the southwest corner of the intersection of East St. Louis Street and Jefferson Avenue in downtown Springfield, Missouri, to Washington DC. Cyrus Avery from Tulsa, and B. H. Piepmeier from Jefferson City happened to be in town that day, and they were trying to resolve a struggle that had been going on for six months concerning what number to assign for a proposed highway, part of the new federal highway system, from Chicago to Los Angeles. They had wanted the number 60, which the  feds had granted to them initially, before the state of Kentucky complained. Then as a compromise the feds offered the number 62. That number did not resonate with Avery and Piepmeier. 
Avery, Piepmeier, another highway official from Oklahoma, and perhaps Springfield's own John T. Woodruff held some sort of impromptu meeting, perhaps in the Colonial Hotel, during that Friday afternoon, to try to resolve the numbering issue. As they looked over the list of available numbers, someone noticed that the number 66 had not yet been assigned to any proposed highway. They dashed off the telegram stating that, if the number was agreeable to all the other stakeholders, they would accept 66.
The rest is history. 
The MSU Libraries has an enduring interest in the history and life of the Route 66 transportation, economic, and cultural corridor, especially the Missouri stretch of the Mother Road. We have numerous oral history collections about various individuals and communities involved in Route 66, including women, African Americans, and truckers. 
Plans for the centennial of Route 66 in April of 2026 already are underway.