"Seeing the World from the Classroom" Exhibit
"Seeing the World from the Classroom" Exhibit
Special Collections and Archives, part of the Missouri State University Libraries, presents a new exhibit on the third floor of Plaster Student Union, titled "Seeing the World from the Classroom." 
This exhibit focuses on a collection of glass slides and stereograph images, along with the equipment used to view them: a lantern projector for displaying images from glass slides onto a wall, and a stereoscope for viewing stereographs (sets of images set side-by-side to create the illusion of depth and three-dimensionality).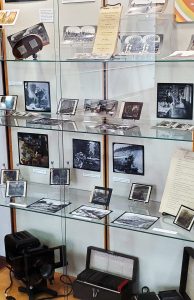 Most of this collection was donated in 1957 by English professor Dr. Virginia Craig and her sister, Miss Ellen Craig, to the Missouri State University Libraries for the newly built Memorial Library, located in what is now Cheek Hall. These along with a collection of stereograph cards were used to aid students in visual learning.
Many images depict countries like Mexico, Switzerland, and Japan, while some show local cities in states like Missouri and Kansas. Some also look at historical moments such as World War I, life in Pompeii, and natural disasters. The images often depict agriculture, transportation, economy, and daily life of many cultures in different time periods, with the purpose of aiding instruction in topics like world history. In the school newspaper, librarian Frances Wallace called this "the beginning of a new era for the library."
The Craig sisters may have been inspired to contribute to the education of Missouri State students in this way after seeing some of these views in-person. In 1938, the school newspaper reported that the two took an overseas trip to visit Paris, Copenhagen, Stockholm, Leningrad, Moscow, and Berlin. 
This exhibit was designed and installed by Annie Simphaly, a student employee in Special Collections and Archives working towards her undergraduate science degree in the Pre-Pharmacy program.