MSU Libraries "Responds" to Special Need for Small Rooms
MSU Libraries "Responds" to Special Need for Small Rooms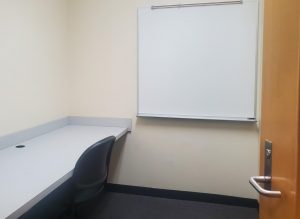 Because the Omicron variant of COVID-19 currently is surging in Greene County, where the main Springfield campus of Missouri State University is located, the MSU Libraries decided to close down all small group study rooms in Duane G. Meyer Library. This preventive measure was announced prior to the start of the Spring Semester last week. 
Recently, however, it came to the attention of the administrators of the Libraries of a special need for small rooms. When students take online exams on their laptop computers, they often use a software program called Respondus Monitor, described as a fully automated proctoring solution for online exams, to ensure that the taking of the online exam is done fairly, ethically, and according to the guidelines established by the course instructor. 
Usually a student taking an online exam being proctored by Respondus Monitor needs to be by themselves in a room. They cannot get up from the table holding the laptop, they cannot consult their cell phones, and they cannot have other people walking around in the area. 
Such a situation is difficult to achieve in residence halls, apartments, and other locations frequented by college students.
To meet this very specific need, Meyer Library is opening several small group study rooms for this particular purpose only. We will be offering room reservations to students requiring spaces for individual testing. These spaces are located on the second floor of Meyer Library and will be available for reservation online.
If you have question about how to reserve and use a small room to take an online exam being proctored automatically by Respondus Monitor, please speak with a library employee at the main service point at the top of the interior ramp on the First (Main) Level of Duane G. Meyer Library.