Meyer Library Plans for Omicron Surge
Meyer Library Plans for Omicron Surge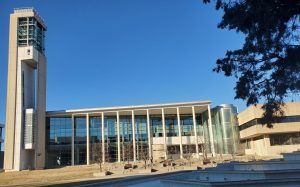 As we all are aware, this week's Clif Notes articulated MSU's general response to the current Omicron surge. The Greene County rolling seven-day average for reported and confirmed COVID cases (nearly all of them Omicron) is at the highest to date.  
I encourage you to read President Smart's message carefully, because it contains important information about the university's mitigation strategies. This LibNotes article highlights how these protocols affect the Duane G. Meyer Library building and the people who use it.
As previously planned, the building will close this coming Saturday, Sunday, and Monday, as we observe Dr. Martin Luther King, Jr. Day. When we reopen Tuesday, Jan. 18, the following mitigation measures will be in place:
Building users are encouraged to maintain at least six feet of space between other building users.





In the Meyer Library building, masks must be worn by everyone at all times, with the following exceptions:
In the main lobby, when food and/or drink are actively being consumed. 

In the Faculty and Employee Lounge on the third level, when food and/or drink are actively being consumed. 

In individual employee offices with floor-to-ceiling walls and a door, when only one person is in the room. 

In the gathering space in the Oldham Family Veteran Student Center on the main level of Meyer Library.
MSU's masking policy is available online.  
Also beginning next Tuesday, small-group study rooms will be closed and locked. The video studio on the second floor will be closed as well. Larger enclosed meeting and gathering spaces, such as the Library Conference Room on the third level, Rooms 107, 120, and 10B, and others as appropriate, will remain open and available for use.  The Vocal Booth will remain open to one scheduled user per day with regular disinfecting measures in place.
These new policies and practices will remain in effect until further notice. The members of the library management team, as well as members of the campus emergency response team, will continue to monitor and assess the overall situation. We are encouraged to be vigilant and flexible during these challenging times.  
If you have questions, suggestions, or concerns about how we are attempting to manage the Omicron surge, please contact me, Tom Peters, Dean of Library Services, or Rachel Besara, Associate Dean.
Stay safe, stay strong, stay flexible.