WGTT Considered for Gilder Lehrman Lincoln Prize
WGTT Considered for Gilder Lehrman Lincoln Prize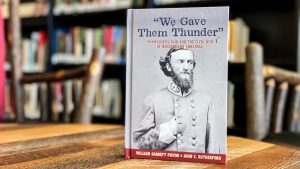 We Gave Them Thunder, the most recent publication of the Ozarks Studies Institute, an ongoing initiative of the Missouri State University Libraries, is being considered for the 2022 Gilder Lehrman Lincoln Prize. The book was co-authored by William Garrett Piston and John C. Rutherford.
The Gilder Lehrman Lincoln Prize is awarded annually for the finest scholarly work in English on Abraham Lincoln, the American Civil War soldier, or a subject relating to their era.
The $50,000 prize was co-founded and endowed by businessmen and philanthropists Lewis Lehrman and the late Richard Gilder, principals of the Gilder Lehrman Institute of American History in New York and co-creators of the Gilder Lehrman Collection, one of the largest private archives of documents and artifacts in the nation.
The 2021 recipient of the Lincoln Prize is David S. Reynolds, author of Abe: Abraham Lincoln in His Times (Penguin Press). In 2021 a total of 81 books were considered, and five were finalists for the award. 
The finalists for the 2022 prize should be announced in January. Hearty congratulations to the co-authors for researching and writing a book being considered for this prestigious prize.