Music and Entertainment Diversions Along Missouri's Route 66
Music and Entertainment Diversions Along Missouri's Route 66
The National Park Service, Route 66 Corridor Preservation Program recently announced the recipients of the 2021 cost-share grant program, awarding Missouri State University Libraries a $7,484 grant. The generous support of the National Park Service will allow the project team to investigate the numerous musical entertainment venues along Route 66 through the Ozarks of southwest Missouri, offering a broad look at the community memory fostered by Route 66.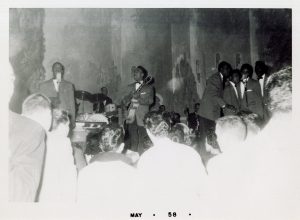 Southwest Missouri has a long musical tradition, and entertainment venues naturally developed along Route 66. Some live music venues were elaborate architectural statements, such as the Gillioz Theater and the Shrine Mosque in Springfield, while others were much more modest, such as dance halls, juke joints, bars, and even truck stops.
The Jewell Theater, also in Springfield and created prior to the Route 66 era, was repurposed in the post-war Fifties as the home of the Ozark Jubilee, the most successful country and western variety show to be broadcast live nationally on a weekly basis for nearly six years. A community of Route 66 travelers, musicians, and locals all enjoyed and benefitted from the venues. One example can be found in a Greater Springfield oral history interview with Irv Logan, grandson of Alberta Ellis (owner of Alberta's Hotel). Logan remembered entertainers traveling through the region in the segregated environment that created the Chitlin Circuit. Many of these entertainers stayed at Alberta's Hotel.
The music and entertainment project will aid current and future generations in understanding the importance and impact of these musical entertainment venues and the connection to American culture. This project will expand on previous successful NPS funded oral history projects, such as the Greater Springfield Route 66 Oral History Project and Trucking on Route 66 oral histories, adding additional research and documentation of community memories.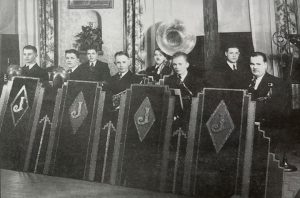 The one-year project aims to identify and research venues offering live musical entertainment and conduct oral histories, which will be made available online to the general public through the MSU Libraries' YouTube channel, providing details and context for this important aspect of Route 66 history and culture.
Research information will be available as a Route 66 Research Collection, housed in Special Collections and Archives, part of Missouri State University Libraries, and online as a Collection Guide. MSU Archivist Tracie Gieselman-France will research venues and create the Research Collection while coordinating with Special Projects Coordinator for MSU Libraries, Craig Amason, and Dean of Library Services, Tom Peters, who will provide additional research and conduct oral history interviews. Gieselman-France will serve as primary investigator for the grant.