Civil War Symposium to Feature OSI Author Piston
Civil War Symposium to Feature OSI Author Piston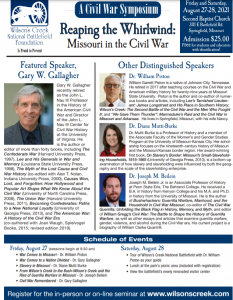 Dr. William Garrett Piston, professor emeritus from Missouri State University and co-author, along with John Rutherford, of the most recent publication ("We Gave Them Thunder": Marmaduke's Raid and the Civil War in Missouri and Arkansas) from the Ozarks Studies Institute, an ongoing initiative of the MSU Libraries, will be one of the distinguished speakers at an upcoming Civil War symposium organized by the Wilson's Creek National Battlefield Foundation: "Reaping the Whirlwind: Missouri in the Civil War."
The symposium will be held Friday and Saturday, August 27 and 28, 2021. The registration fee is $25, but students and educators may register and attend for free. Participants may attend in-person or online. Register at www.wilsonscreek.com. 
The keynote address will be made by Gary W. Gallagher, and Dr. Diane Mutti-Burke from UMKC and Dr. Joseph M. Beilein from Penn State Erie. 
Copies of "We Gave Them Thunder" will be on sale at the symposium.