Kid's TV and Frozen Custard
Kid's TV and Frozen Custard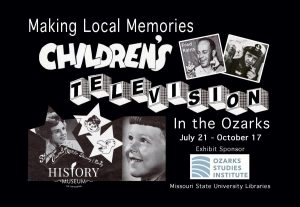 The new exhibit at the History Museum on the Square in downtown Springfield, Missouri about local children's television from the Fifties forward  is now open. It's called "Making Local Memories: Children's Television in the Ozarks." The Ozarks Studies Institute, an ongoing initiative of the Missouri State University Libraries, is a sponsor. 
As the Museum staff notes, "Join us here at the History Museum on the Square as we take a look back at Springfield's children's television with a wonderful display that includes videos and images and artifacts of Springfield shows like Birthday Party, Romper Room, Television Classroom, Sesame Street, and more.
Also, we will be debuting one of our more recent artifact donations directly from the set of The Children's Hour! We are thrilled to be exploring our community's history and individual memories about local children's television programming and how children's entertainment has changed from the 1950s to today. This exhibit will be on display from July 21 – October 17, 2021. General Admission applies." 
While the exhibit is now open, the in-person conversation with "Aunt" Norma Champion, one of the pioneers of local children's television, has been postponed until September 18, 2021. 
As an added bonus, to celebrate Missouri's Bicentennial, on Tuesday, August 10, 2021, the History Museum will offer free music and free frozen custard from Andy's on the Park Central Square, right outside the History Museum on the Square, from 4:00 to 7:00 p.m.