Brooks Travis Elected to FOLIO Product Council
Brooks Travis Elected to FOLIO Product Council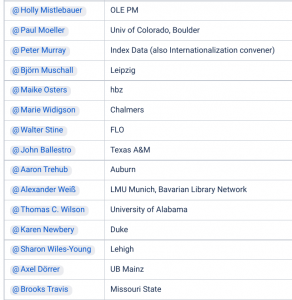 Brooks Travis, the Coordinator of Library Information Technology at the Missouri State University Libraries, has been elected to the FOLIO Product Council. 
The FOLIO Product Council is an international body of 11 members charged with providing the product vision, strategy, and roadmap in collaboration with the Technical and Community Councils. Other members include representatives from Stanford, the Shanghai Library, EBSCO, Knowledge Integration, Cornell, The University of Chicago, Lehigh, Cornell, and two German library groups, GBV and HBZ.
Quoting from the FOLIO Project Wiki: "The FOLIO Product Council will act on behalf of the OLE Community and FOLIO partners to express and champion priorities in the development of the FOLIO Library Service Platform, and ensure the relevance and cohesiveness of the FOLIO project. The mission was outlined in the FOLIO Product Council Charter dated 2017-02-13. The Executive Committee convenes to set the agenda for the overall Product Council." 
The MSU Libraries now has two elected representatives on these international FOLIO councils. Earlier in 2021 Rachel Besara, Associate Dean, was elected to the FOLIO Community Council.
Congratulations, Brooks!