Use of the Libraries' YouTube Channel Jumps During COVID-19
Use of the Libraries' YouTube Channel Jumps During COVID-19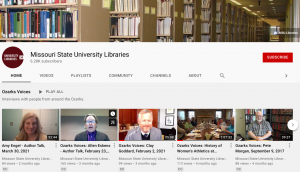 The use of the dedicated YouTube channel of the Missouri State University Libraries really jumped during the COVID-19 pandemic. Usage already was high before the pandemic affected all our lives. 
From March of 2019 to February of 2020, the videos on the dedicated channel received 684,309 views, with 12,412,084 minutes watched, for an average of 18.1 minutes per view.
From March of 2020 to February of 2021, the videos received 1,247,687 views, an increase of 563,378 over the previous twelve months, an 82% increase. A total of 29,723,280 minutes watched, an increase of 17,311,196, a whopping 139% increase, with an average of 23.8 minutes per view.