Nathan Attends Library Publishing Forum
Nathan Attends Library Publishing Forum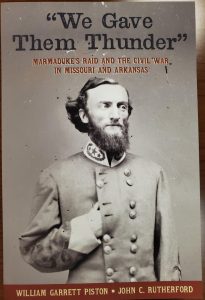 Nathan Neuschwander, the Graphic Designer for the Missouri State University Libraries, recently attended the Library Publishing Forum, held online this year. 
The keynote address was given by Elaine L. Westbrooks, Vice Provost of University Libraries and University Librarian, University of North Carolina at Chapel Hill. Sessions covered a wide range of topics, including open access, workflow issues and documentation, student publishing, the Espresso Book Machine, metadata and discoverability, accessibility, and much more. 
Because the MSU Libraries has an active and growing publishing program, soon we plan to become official members of the Library Publishing Coalition.
Current publications of the MSU Libraries include:
A book series under the aegis of the Ozarks Studies Institute, an ongoing initiative of the MSU Libraries. The next book in this series, coming out in August, is We Gave Them Thunder: Marmaduke's Raid and the Civil War in Missouri and Arkansas, written by William Garrett Piston and John C. Rutherford.