Laura French is the New Marketing and Communications Specialist
Laura French is the New Marketing and Communications Specialist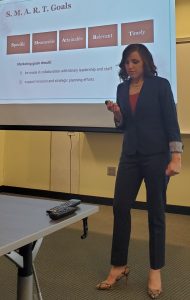 For the first time in a long time, the Missouri State University Libraries soon will welcome two new employees with approximately the same start in late May and early June. Both new hires will be filling newly created positions.
As announced last month, Mohammad AlHamad will join our team as our E-Resources Strategist, and today we're announcing that Laura French will join as our Marketing and Communications Specialist. 
For the past seven years Ms. French has served as the Strategic Communications Specialist for Ozarks Technical Community College. Prior to that, she worked for two years at Big Brothers Big Sisters of the Ozarks. Her Bachelor of Arts degree in Arts Administration was earned at Drury University. 
As articulated in the position description, the Marketing and Communications Specialist develops and manages an annual marketing and communication plan for University Libraries that includes the implementation of marketing, advertising, promotional, and public relations efforts in support of the Library's strategic plan.
Primary Duties include: 
1. Develops and manages an annual marketing and communication plan for University Libraries that includes student-focused events, alumni relations, special events, and marketing and communication initiatives in support of University Libraries strategic plan.
2. Establishes priorities, makes assignments, monitors and evaluates results and employee performance.
3. Manages the creation and use of internal and external branding for the Libraries, including print advertising, print marketing materials, video, digital advertising, website, and Library digital screen displays.
4. Conducts quality control over all Library branding, outreach events, external library communication, manages production workflow, and ensures adherence with University Communications guidelines and brand policies.
5. Promotes a positive image and expands the University and external public's perception of the Library by preparing press releases, managing the Libraries' newsletters, events calendar, serving as the primary point of contact for all media inquiries, and managing Library sponsorship opportunities.
6. Develops and manages University Libraries' social media strategy on platforms such as Facebook, Twitter, and Instagram to enhance communication with the public as well as specific target groups.
7. Collaborates with Libraries' departments on projects and events by coordinating advertising, resources, and expertise related to needs assessments, marketing, and communications.
8. Manages funds by developing, planning, and controlling annual budgets for advertising and promotions, special events, marketing, and communications.
9. Serves on cross-functional campus and Library teams.
11. Proactively contributes to a work environment that encourages knowledge of, respect for, and development of skills to engage with those of other cultures or backgrounds.
12. Remains competent and current through self-directed professional reading, developing professional contacts with colleagues, attending professional development courses, and attending training and/or courses as directed by the supervisor.
13. Contributes to the overall success of University Libraries by performing all other essential duties as assigned.
Ms. French will begin working for the MSU Libraries on Friday, May 28, 2021. Her office will be located in Room 210B on the Second Level of Duane G. Meyer Library. Welcome, Laura!