Laura McHugh to Speak Here in October
Laura McHugh to Speak Here in October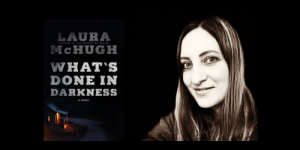 In late June Laura McHugh has a new novel coming out, What's Done in Darkness, set in the Arkansas Ozarks. McHugh will be here on Tuesday evening, October 5, 2021 at 7:00 p.m. to give a talk. This event is free and open to the public. Current plans are to offer this event both in-person and online via Zoom. 
Here's the basic story line: "Seventeen-year-old Sarabeth has become increasingly rebellious since her parents found God and moved their family to a remote Arkansas farmstead where she's forced to wear long dresses, follow strict rules, and grow her hair down to her waist. She's all but given up on escaping the farm when a masked man appears one stifling summer morning and snatches her out of the cornfield.

A week after her abduction, she's found alongside a highway in a bloodstained dress—alive—but her family treats her like she's tainted, and there's little hope of finding her captor, who kept Sarabeth blindfolded in the dark the entire time, never uttering a word. One good thing arises from the horrific ordeal: a chance to leave the Ozarks and start a new life." 
Additional details about this exciting talk will be coming soon.