Danzero Stereograph Cards Digitized
Danzero Stereograph Cards Digitized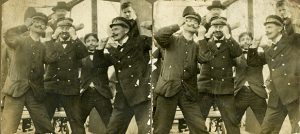 A new collection of stereograph cards created by photographer Domino Danzero has been digitized by Special Collections and Archives, part of the Missouri State University Libraries, and are now viewable in 3D in the online Digital Collections.
Domenico ("Domino") Danzero, born in Italy in 1871, immigrated to the United States at the age of 19.  He and his wife Bridget settled down in the Ozarks in the mid-1900s and moved to Springfield, Missouri, in 1907.  Among other hobbies and professions, Danzero was an avid photographer, even developing a time-lapse photography method that he later sold to the Eastman Kodak Company. 
The 26 stereograph cards in this collection document a trip Danzero took to Italy in 1900-1901.  Stereograph cards are intended to be viewed three-dimensionally in a stereoscope, a popular diversion of this time period.  Along with a scan of the original card, the images are presented here in several different viewing formats.  The anaglyph format is the only format requiring additional equipment (red/cyan anaglyph glasses).  For instructions on how to view each format three-dimensionally, see The Stereoscopic Society's suggestions .  
For more information about Domino Danzero and the Danzero and Maschino families, see the following finding aids: 
If you have questions, please contact Special Collections and Archives.