Anne Baker to Speak at Brick & Click Virtual Conference
Anne Baker to Speak at Brick & Click Virtual Conference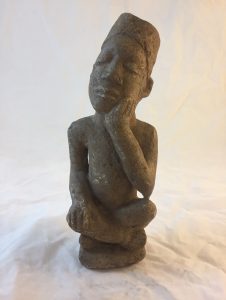 Word came this week that Anne Baker, Assistant Professor of Library and Information Science at Missouri State University, will be speaking at the 21st Annual Brick & Click Academic Library Conference in early November, which will be held as a virtual conference.  The Conference is organized and produced by Northwest Missouri State University. 
The title of her talk is "An Uncommon Partnership: Special Collections and Advanced Art History Classes at Missouri State University."
The abstract reads in part: 
"In 2005, MSU's Special Collections was approached by a professor in Art and Design about a collaborative project: Could Special Collections make secure study space available to her advanced art history students? For that fall semester, Special Collections housed African artifacts on loan to the university, treating the materials like the archival collections by ensuring secure storage and monitored access. The relationship continues today, with the Art and Design faculty member offering hands-on experience in several advanced art history classes. In addition, each fall an exhibit of the previous year's best work is developed in the reading room…. The arrangement between Special Collections and Art and Design is certainly not a typical collaborative project in the archival field. However, it has worked at Missouri State University. The partnership has enabled Special Collections to build new connections with students, educators, and the community. Confidence in the arrangement has grown among local GLAM institutions, both increasing access to objects and strengthening Special Collections' ties to those entities. However, the key reason for Special Collections' involvement is to support MSU students. Through this arrangement, the students, many of them poised to graduate and begin their careers, gain skills by having hands-on access to art and artifacts."
Congratulations, Anne!