Lobby Lockers Launch
Lobby Lockers Launch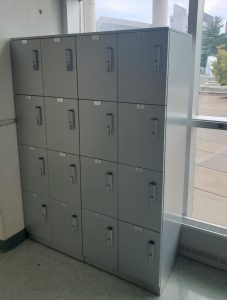 A new service is now available in Duane G. Meyer Library on the main Springfield campus of Missouri State University.
As a safe way of providing library books, other information materials, and electronic equipment to students, faculty, and staff, Meyer Library is now offering 24/7 contactless locker pick up in the library's main entrance. Patrons can request books and circulating materials (up to 10 items per transaction; course reserves excluded) through the Libraries' homepage
Access Services staff will process the patron's request within 2 business days. When materials have been processed and checked out to a patron, he/she will be notified by email with the locker number, access code, and instructions on how to access the locker. Items will be kept in the lockers for 24 hours. If the materials are not picked up in time, they will be transferred to the hold shelves at the Information Desk for 7 days with the exception of technology items. They will be discharged from the patron's account and returned to the library.
Meyer Library is committed to provide contactless delivery and self-service experience for our patrons. This new service will allow the Library to provide maximum access and convenience to our physical materials while keeping our patrons and staff safe.