Happy 95th Birthday, Route 66
Happy 95th Birthday, Route 66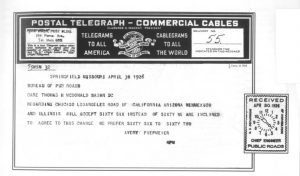 At 4 p.m. on Friday, April 30, 2021, the Missouri State University Libraries will hold an informal gathering and celebration at the corner of Jefferson Avenue and East St. Louis Street in downtown Springfield to commemorate the 95th birthday of Route 66, also known as the Mother Road and the Main Street of America. Everyone is welcome to attend.
At 4 p.m. on Friday, April 30, 1926, a group of advocates for a paved road all the way from Chicago to Los Angeles sent a telegram to DC from the Postal Telegraph office in the Colonial Hotel. The telegram is the first recorded instance of the number 66 being associated with the proposed road. Thanks to the hard, diligent work of Cyrus Avery, B. H. Piepmeier, John T. Woodruff, and countless others, Route 66 quickly became a major route to California, jobs, and dreams of a better life. Route 66 went on to become one of the most recognized and mythic roads in human history, celebrated in novels, songs, movies, and countless photographs. 
You can read more about the birth here. 
Individually wrapped refreshments created specifically for this occasion will be available for free. All are welcome to stop by and say happy birthday to Route 66.