10th Anniversary of the eJournal of Public Affairs
10th Anniversary of the eJournal of Public Affairs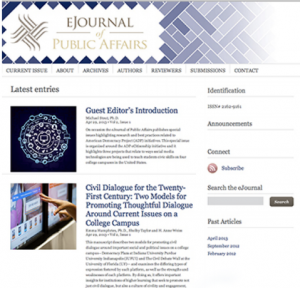 Volume 10 Issue 1 of the eJournal of Public Affairs soon will be published digitally, free to all. It represents our tenth anniversary publishing this scholarly online journal. The eJournal evolved from Missouri State University's print journal, published from 1997 to 2006.
Due to the efforts of Dr. Rachelle Darabi, in collaboration with the American Democracy Project, the journal restarted as an online EJOPA publication in 2012. With a shared intention for excellence, the eJournal has met its ambitious goal for publishing three issues a year with two exceptions; once in 2016 when our managing editor tragically died and the other in 2020 due to the COVID pandemic.
This academic resource reflects the good fortune from the talent, expertise, and commitment by authors, reviewers, guest editors, editorial board members, and colleagues. We have benefited from the authors bringing their work to the journal, the reviewers who provide their expertise through the double blind peer-review process, the editors for their dedication and editorial skills, and the editorial board members who keep us all focused and engaged. Special thanks to the guest editors who bring new special topics with submissions from their colleagues and their efforts to help develop the issue, and to everyone who has been a part of this endeavor (including faculty, students, community members, administration, philanthropist, artists, entrepreneurs, etc.).
On July 1, 2020 the MSU Libraries became the home for the eJournal of Public Affairs. Andy Lokie, a member of the Library Science Faculty, continues his remarkable work as the Executive Editor.