MSU Libraries Annual Report
MSU Libraries Annual Report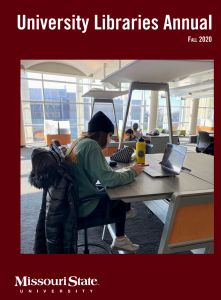 The Annual Report of the Missouri State University Libraries for the 2019-2020 academic year is now available online. The brief report highlights and illustrates some of the major accomplishments of the faculty and staff of the MSU Libraries, as well as major gifts and exciting initiatives.
Examples include: 
Information about the latest publication from the Ozarks Studies Institute called Living Waters: The Springs of Missouri, written by Loring Bullard.
New digital collections on various topics. 
Updates on a current project to make an updated feature-length documentary film about Shannon County, Missouri, as a complement to the two films produced in the early Eighties. 
Numerous events and exhibits.
Updates on the ongoing project to renovate all the public areas of Duane G. Meyer Library and Haseltine Library. 
Dean Emeritus Karen Horny's induction into the MSU Wall of Fame.
The gift of a major book collection from the late Frank & Lanarae Gillespie. 
The Libraries' response to the pandemic. 
Many awards, honors, and grants involving the faculty and staff of the Libraries. 
The print version will be mailed to stakeholders soon. As you can imagine, producing this report during the current pandemic has been challenging.