Besara Program at ACRL National Online Conference
Besara Program at ACRL National Online Conference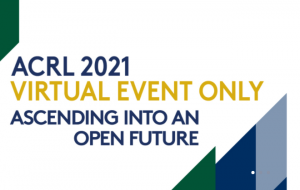 "Every Expedition Begins with a Team: Cultivating a Peer Mentoring Network," a panel session proposal made by Rachel Besara, Associate Dean of Libraries at Missouri State University, has been selected for presentation the ACRL (Association of College and Research Libraries) 2021 Virtual Conference, to be held April 13-16, 2021.
This panel will offer insight into developing your own network of mentors, how to transition from a mentee to a mentor, and offer an opportunity to participate in informal peer mentoring with a panel of librarians representing a variety of professional perspectives. The panelists will explore how their lived experiences helped to build an equitable, welcoming, and inclusive work environment for early career librarians. The panelists include an associate dean, a director, a department head, and a subject liaison from a range of institutions, including Research I institutions, a civil rights institute, and a professional doctoral granting institution.
Congratulations, Professor Besara.