Dea Borneman Co-Authors Article in Our America Magazine
Dea Borneman Co-Authors Article in Our America Magazine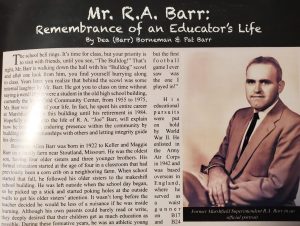 Dea Borneman, head of the Haseltine Library in the Greenwood Lab School, and coordinator of the Infant Through Grade 12 area in Duane G. Meyer Library on the Springfield campus of Missouri State University, is the co-author of an article that appears in the current (October 2020) issue of Our America Magazine, the recently launched quarterly publication of the Missouri Cherry Blossom Festival. 
The article, "Mr. R. A. Barr: Remembrance of an Educator's Life," co-authored with Pat Barr, Dea's brother, is about the career of their father as an educator, athletic coach, and administrator in public education in the Missouri Ozarks, especially in Marshfield, the county seat of Webster County. 
Raymond Allen ("Joe") Barr was born in 1922 on the family farm near Stoutland, Missouri, northeast of Lebanon. He graduated from Stoutland High School at the age of sixteen. In 1940 he came to Springfield and enrolled in what is now Missouri State University. Stoutland High School did not have a football team. In fact, R. A. had never even seen a football game, but he joined the college football team — and promptly broke his arm. In 1942 he joined the Army Air Corp and served as a waist gunner based in England. One night, after missing curfew, R.A. and his buddy were dressed down by the Commanding Officer, a man known to many as the film star Jimmy Stewart.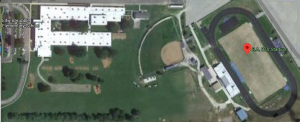 After the war R.A. began his teaching, coaching, and administrative career in Willard and Liberal. He married and they started a family. In 1955 the Barr family moved to Marshfield. In 1960 he was named Superintendent of Schools. In 1965 several area schools were combined to become the Marshfield R-1 School District. A new high school opened in 1975. R. A. retired in 1984. To honor him, the school district named the football stadium R. A. Barr Stadium. It stands just east of the Edwin Hubble Elementary School.