Marilyn McCroskey to Retire After Nearly 40 Years of Service to the MSU Libraries
Marilyn McCroskey to Retire After Nearly 40 Years of Service to the MSU Libraries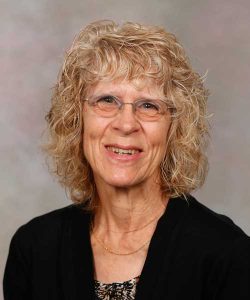 Marilyn McCroskey, Professor of Library Science and Head of Cataloging at the Missouri State University Libraries, plans to retire at the end of October after nearly 40 years of service to the MSU Libraries and its users. 
Marilyn earned her Bachelor of Science degree in Education from SMS (now MSU) in 1972, followed by a Masters degree in English in 1976. She earned her second Masters in Library Science in 1981 from the University of Missouri in Columbia. In August 1981 she joined the Library Science faculty at SMS as an Instructor and AV Cataloger. 
In 1985 she was promoted to the rank of Assistant Professor. In 1993 Marilyn became the Head of Cataloging. On August 13, 2001 she was promoted to the rank of Full Professor. Among her many service activities, for decades she also served as an elected member of the Marionville R-9 School District Board of Education. 
Because of the current pandemic, per Marilyn's wishes, no retirement reception will be held. 
Best wishes to you and your family during your retirement years, Marilyn.