Durham and Peters Taped by OzarksWatch Video Magazine re: TechnOzarks
Durham and Peters Taped by OzarksWatch Video Magazine re: TechnOzarks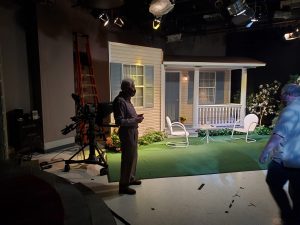 On Tuesday, October 13, 2020, Dr. Paul Durham, Distinguished Professor of Biology, Director of Cell Biology, and Director of the Center for Biomedical and Life Sciences at MSU, and Tom Peters, Dean of Library Services at MSU, were interviewed by Dr. Jim Baker, Vice President for Research and Economic Development and International Programs, for an upcoming episode of OzarksWatch Video Magazine, a popular program produced by Ozarks Public Television.
Durham and Peters are the co-editors of a new book published by the Ozarks Studies Institute called TechnOzarks: Essays in Technology, Regional Economy, and Culture. This hardcover book, almost 300 pages in length with nearly 250 stunning images, is for sale for $40. 
According to the OPT website: "OzarksWatch Video Magazine is a weekly series that documents, presents and preserves the unique heritage of the Ozarks. The goal of the series is to increase a knowledge and understanding of the richness and complexity of the Ozarks region. The show also attempts to promote a sense of place for residents and serve as an educational resource by continually documenting and archiving cultural elements and providing easy access to this information."
This episode about TechnOzarks will air, as well as be available online, sometime in early 2021.